Activation Instructions:
To unlock the software from demo version, please see the below screenshot: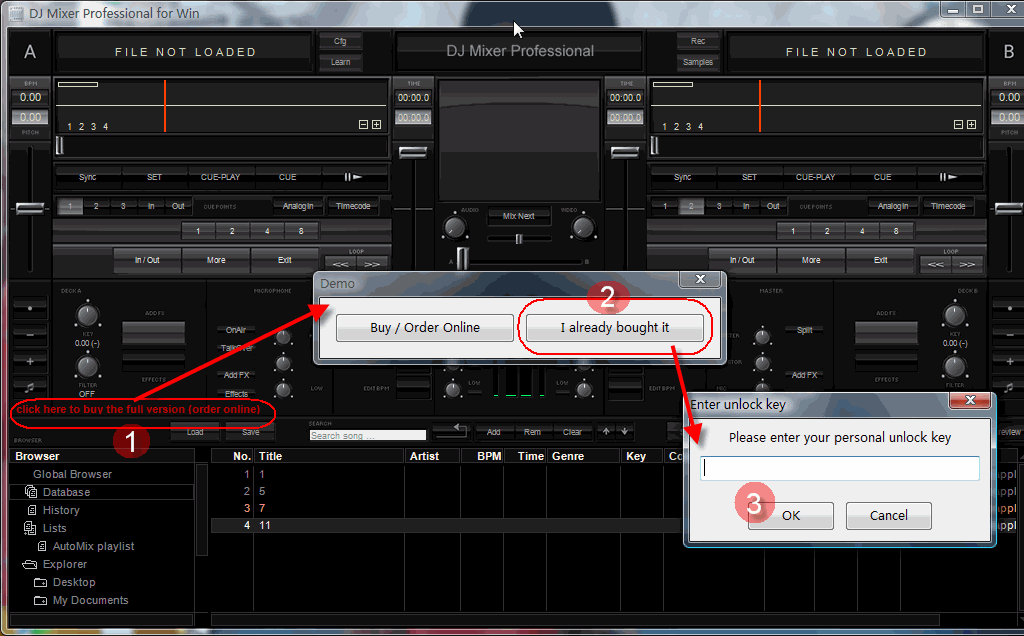 Step 1, There is a line of red text at the left-middle position on the main window which shows as "click here to buy/unlock the full version". Please make sure that you see the text.
Step 2, Click on the red text described above, a dialog would be opened with two buttons "Buy / Order Online" and "I already bought it".
Step 3, Click the left button "Buy / Order Online" to place an order if you have not bought it, otherwise you should click the right button "I already bought it".
Step 4, After clicking the button "I already bought it", you will see another dialog with caption "Enter unlock key", where you may enter you personal unlock key (Licence Code). then click the button "OK".
(after you place your order. You will receive a confirmation by email that will contain all of your order data including your Licence Code).
Step 5, If the key is correct, the software would be unlocked to a full version, otherwise you should try to enter the key again and make sure the key is entered correctly.
Some tips to remember:
1. Make sure that there is no space before and after the Licence Code.
2. Make sure that you are not mistaking the letter "O" for the figure "0" (zero).
3. The simplest way is to copy the Licence Code from your registration letter and to paste them to the appropriate boxes of the registration window.